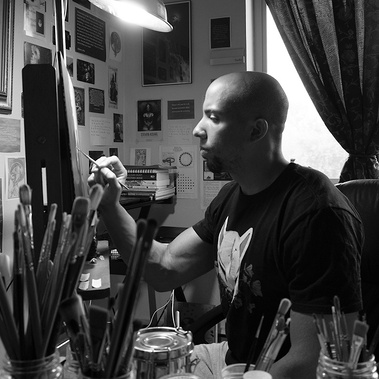 About the Artist
Ricardo is an illustrator currently living in Denver, CO. He draws inspiration from archetypal stories in mythology, as well as philosophy, and religion. Much of his work reflects on internal landscapes of personal experience that seeks to create an honest and emotive connection with the viewer.
He grew up in Jersey City, NJ where he began drawing at the age of 5, inspired by watching 90's anime. In high school he was exposed to the works of the old masters, and French academic painters, where his love of the visual arts grew into a life-long obsession. After graduating, he went on to hone his craft at the Ani Arts Academy under the guidance of his mentors Tim Jahn, Anthony Waichulis, Kevin Moore, and Jason Brady.
Art and the impulse to create has always been a mystery to him. He regards drawing and painting as a sacred practice that connects countless generations of artists, dating back over 30,000 years to some of the first cave paintings. For him the artistic pursuit is one of deep meaning and significance. He views art as an essential vehicle for exploration, self-discovery, and connection.
Exhibitions
2019 Enigma | Lovetts Gallery | Tulsa, OK
2019 Dark Circus | Valkarie Gallery | Denver, CO
2019 Equinox | Ani Art Academies America | Red Bank, NJ
2018 Tiny Treasures | Helikon Gallery | Denver, CO
2017 Capturing Realism | Pauly Freidman Art Gallery | Dallas, PA
2015 Capturing Realism | Pauly Freidman Art Gallery | Dallas, PA
2015 Sexes | Reh's Contemporary Gallery | NYC, NY
2014 Heroes, Villains, Myths & Legends | Reh's Contemporary Gallery | NYC, NY
2013 Capturing Realism | Pauly Freidman Art Gallery | Dallas, PA
2013 The Big Gamble | Reh's Contemporary Gallery | NYC, NY
2011 Capturing Realism | Pauly Freidman Art Gallery | Dallas, PA
Education
Art Student's League of Denver
Ani Art Academies, Long distance apprentice
Jahn Studios, East Brunswick, NJ
For updates, WIP shots, and more follow me on Instagram below